Owner Erica and her esteemed staff strive to maintain a body-positive and goal-focused culture in the studio. They are friendly, upbeat, all-embracing, and multi-talented. Their teaching is thorough and tailored to your specific needs.
ERICA WALTERS. Studio Owner, Level 3 Certified Instructor, and Real Pilates Teacher Training Host & Instructor Trainer.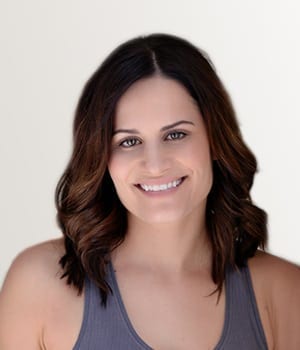 Erica Walters is a force in the Pilates industry. She is a nationally known fitness expert, instructor, trainer, and author. Walters is the Owner of Pilates Fit Studio and her Pilates studio is Kentucky's only Authentic Pilates Studio and teacher-certification center for Real Pilates of New York City. Walters is also the author of The Better Back®, Pilates for Osteoporosis, an at-home workout guide.
Living in Louisville, KY with her husband and young son, Walters has dedicated her work, life, and creativity to sharing the gifts of Pilates and movement. She is a Pilates certified instructor in Louisville and has been teaching Classical Pilates full-time since 2005. With clients, she program designs custom workouts for each client based on their specific goals and needs. Her teaching style is encouraging, motivating, and welcoming, with an emphasis on good technique, alignment, and control. Walters also mentors and certifies the next generation of Classical Pilates Teachers with Real Pilates of New York City.
Originally from Southern California, Walters is a graduate of Arizona State University in Human Communications and completed a post-baccalaureate in Exercise Science from the University of Louisville. Currently, she is working on her master's degree in Sports Sciences at Tulane University and has a projected completion of May 2024.

Walters is a distinguished graduate of New York's renowned, Real Pilates Teacher Training program where she studied in New York City under Alycea Ungaro. She completed The Classical Syllabus under second-generation teacher, MeJo Wiggin, and is also a graduate of the Advanced Teacher Training program with The Pilates Center of Boulder, CO.
In 2020, Walters developed an online at-home studio for Pilates & Fitness. In her online platform, she created multiple Pilates programs for beginners, intermediate, strength-specific, pro-tips, and a focused series on Osteoporosis. Additionally, she brought on Louisville's certified Pilates instructors and trainers to include strength training, barre, yoga, HIIT, and nutrition workshops on the platform.
After graduating from ASU and certifying in Classical Pilates, she had the opportunity to travel and teach in Scottsdale, San Diego, and Dallas. Walters also served as an adjunct professor for the Department of Exercise and Sport Science at Oklahoma City University. She has been a guest writer for Pilates Style Magazine and led health and fitness videos for Blink Energy Water in Los Angeles. She's been featured in Style Blueprint, Louisville Business, and the Arizona Republic, and was one of Oldham County's top 40 under 40 in 2021. She is often asked to give fitness advice in blogs and articles, such as Kentucky Living, Byrdie.com, Beaute Written, and redfin.com.
You can enjoy working with Erica in her Pilates studio or in the comfort of your own home with her online at-home studio inside the Pilates Fit Studio app.
In her free time, Walters enjoys gardening, spending time with her young son MJ and husband Mike, and being active outdoors.
---
LAUREN BRUKER, Level 2 Certified Teacher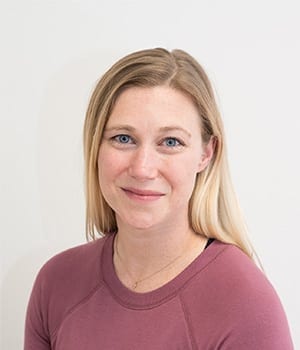 Lauren Bruker Grew up dancing and playing sports, and believes in the healing power of positive movement. After receiving a BFA in dance from the University of Illinois, she moved to New York to pursue a career in movement and fitness. In 2009, she was one of SoulCycle's, NYC's premier indoor cycling studio, first instructors. She helped open SoulCycle studios all over the country and expanded the company's teacher training program from 2009 to 2017. During her career as an indoor cycling instructor, she experienced a lower back injury that brought her into Pilates. She started taking private lessons from Alissa Alter in New York City and was instantly hooked on the Pilates method. Lauren loved the one-on-one attention, the small group classes, and how Pilates helped alleviate the fatigue and imbalance her body had been experiencing for years. Since practicing Pilates, she has been injury-free for 5 years, and counting!

Lauren graduated from the Somaspace Pilates Teacher Training with Amanda Vernor in Austin, Texas in 2017. In 2019, Lauren continued her Pilates education and completed the Classical Syllabus teacher training with world-renowned Pilates Teacher, MeJo Wiggin. In 2021, Lauren began the graduate program with New York's renowned, Real Pilates Teacher Training program at Pilates Fit Studio and graduated in 2022. In addition to her Pilates education, Lauren holds a NASM Personal Training certification, 200-hour Yoga certification, and a BFA in dance from the University of Illinois.

Lauren's teaching mission as a certified Pilates instructor at our Louisville studio is to empower people to have a deeper understanding of themselves through practicing Pilates. While working with Lauren, you will be encouraged to try new things, take risks, and learn at the moment. She believes that Pilates is one of the best ways to measure your health and celebrate what your body can do.
---
SUSAN VIERS, Level 2 Certified Teacher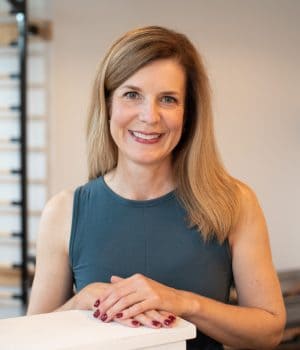 Susan Viers was first introduced to Pilates over 20 years ago and has practiced consistently since. Physical movement has always been an important part of her life, whether it was taking ballet and watching her mom do aerobics while growing up, running four mini-marathons, or doing numerous group exercise classes as an adult. Her mom taught her just to keep moving; it didn't necessarily matter what she did, as long as she did something! The "something" that has inspired her most has always been Pilates, and she is excited to share this passion with others.

Susan began her path to getting certified in 2020 with New York's renowned, Real Pilates Teacher Training, at Pilates Fit Studio and graduated in 2021. Additionally, she holds a Bachelor's degree from Centre College and a Master's of Business Administration from the University of Louisville, where she was awarded the Landrum Prize for Leadership. During her professional career, Susan received the Young Careerist Award, was a graduate of Leadership Louisville and Leadership Kentucky, and was named a "Top 40 Under 40" by Business First.

Having served as president of the Junior League of Louisville and a member of the Lobster Feast Committee for Actors Theatre, Susan continues to remain active in the community.
With a strong belief that classical Pilates can benefit all bodies, Susan looks forward to working with all types of clients to help them increase strength, flexibility, and balance.
---
KARA PRICE, Level 2 Certified Teacher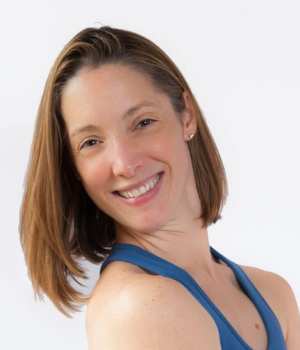 Kara Price first experienced Pilates and yoga over twenty years ago while working as a professional dancer in Chicago, and quickly fell in love with the combination of physical training and mental centering. Soon, her personal practice grew into a passion to share these disciplines. Kara was first certified in Pilates through Body Balance and the PhysicalMind Institute.
Her dancing career led her to Miami, where she taught with the world-renowned Ana Caban at her Pilates studio Progressive BodyWorks. That experience inspired her to move to New York City where Brooke Siler took her under her wing as a student and teacher at her Pilates studio re:AB. This is where her Classical Pilates teaching and training grew deeper, and also where her yoga journey blossomed. In 2021, Kara entered the graduate program with Real Pilates of NYC at Pilates Fit Studio and graduated in 2022.
With ten years of teaching Pilates under her belt, Kara began yoga teacher training at OM Yoga where she found a mix of Buddhist mindfulness and practical anatomy that fit perfectly with her Pilates background.
Kara and her husband moved to Louisville to be closer to family. For the last ten years, she's been teaching – and always learning –as a Pilates certified instructor here in Louisville.
---
SHANNON LEE WEST, Level 2 Certified Teacher
Shannon Lee West was first introduced to the Pilates method, through her training at the rigorous School of Ballet Arizona. Throughout her professional performing career in Arizona, California, Georgia, and Missouri, Pilates remained a constant both to maintain a healthy body and to rehabilitate from injuries, as so many of the Pilates elders similarly found themselves in the hands of Joseph Pilates.

After ending her stage career, Shannon worked behind the scenes at Missouri Contemporary Ballet, mid-Missouri's only professional dance company as Resident Choreographer, Ballet Mistress, and Rehearsal Director. It was during this time that Shannon discovered that she not only had a love for imparting movement to people, but wanted to do so in a way that left others feeling inspired, independent, capable, and ultimately excited to do it again. Her focus took a turn on pre-professional dancers and she urged them to include Pilates in their training. Shannon was proud to produce students that would proceed to many of the best universities in the nation for dance including Juilliard, Boston Conservatory, CalArts, Manhattan Marymount, and PointPark, among others.
Shannon completed her certification of Core Dynamics Classical Comprehensive Syllabus under the lineage of Pilates' elder, Eve Gentry. Because of Gentry's experience with recovery from breast cancer in 1955, and its influence on her work, Shannon also became interested in, and certified under, the Pink Ribbon Program. Hungry to get a full picture of Joseph Pilates' teachings, in 2021, Shannon entered the graduate program with the Real Pilates Teacher Training at Pilates Fit Studio and graduated in the summer of 2022.
In her spare time, Shannon still enjoys working with Missouri Contemporary Ballet as a guest artist, supporting live dance and music, and snuggling up to her cats.