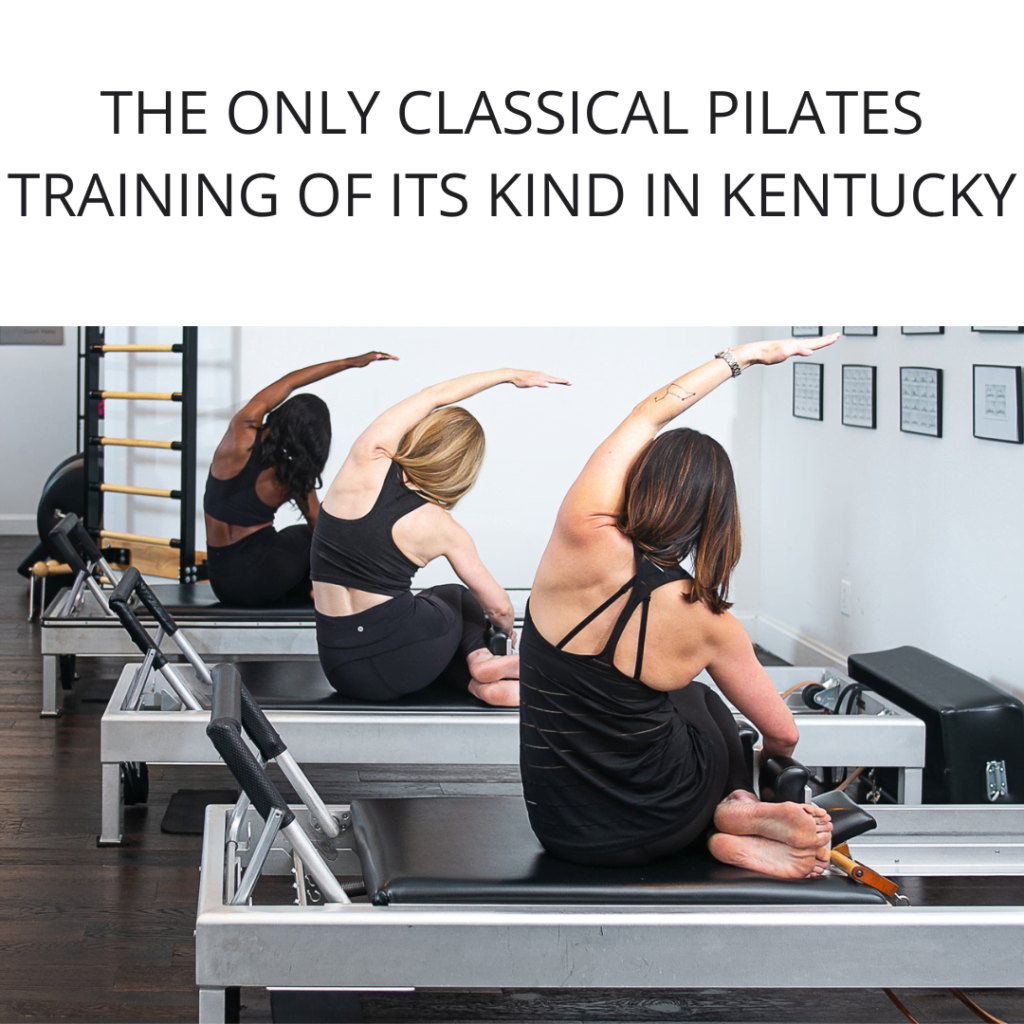 JOSEPH PILATES LEGACY CONTINUES
The Real Pilates Teacher Training Program® stands out in the Pilates teacher training industry and is recognized as one of the most prestigious Pilates certifications in the world for its academic excellence and full comprehensive syllabus. Pilates Fit Studio in Louisville is a trusted partner and branch of New York's renowned, Real Pilates ®.
The team of highly experienced instructor trainers with a direct lineage to Joseph Pilates, from New York and Louisville, will mentor you throughout the entire Pilates teacher training program right in Louisville at Pilates Fit Studio. Each apprentice will receive one-on-one mentoring and an in-depth understanding of the method that far exceeds its competitors. Graduates of the program are highly sought after and tend to find multiple job opportunities awaiting them upon graduation with the Real Pilates name.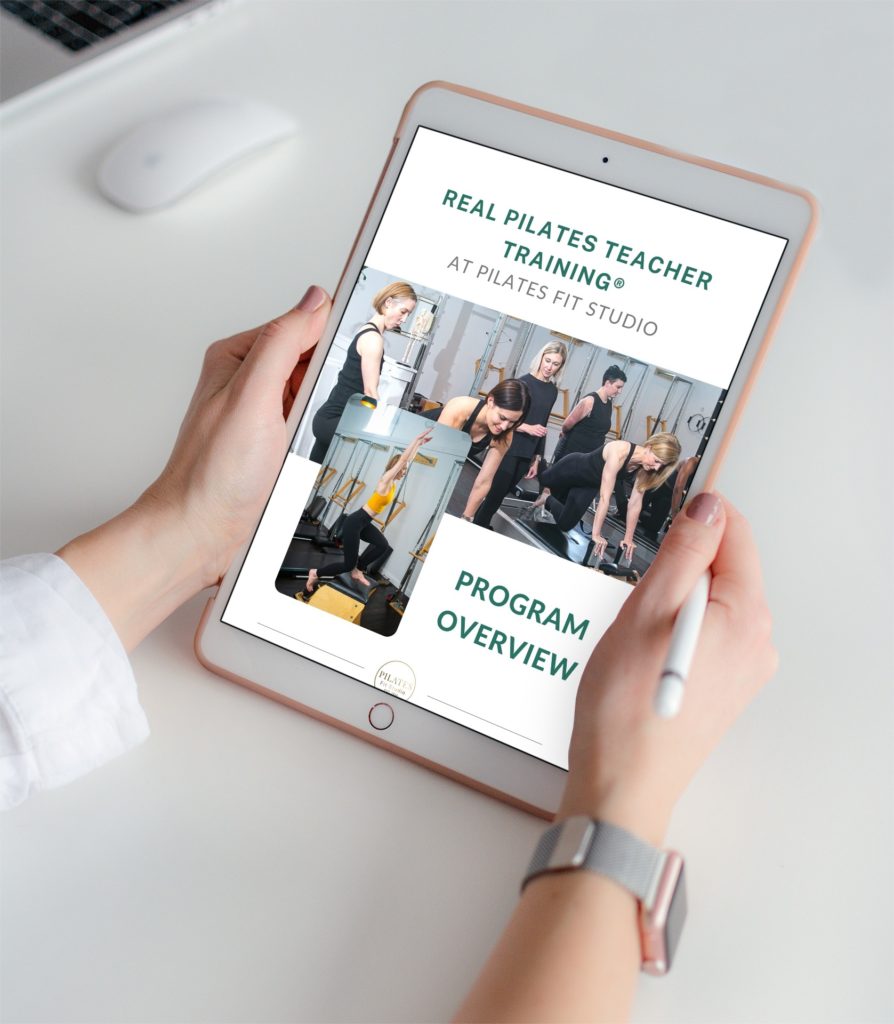 Download Real Pilates Teacher Training Program Overview
OUR PROGRAMS
Primary Training Certification: This is a 30-week program presented over four seminar weekends, and 600+ hours of practical and academic study. You will learn the system of the method, program design, anatomy, anatomical alignment, special populations, common injuries, and how to apply it to today's exerciser. You'll learn every exercise, every variation, and every piece of apparatus ever created by Joseph Pilates. You will become a part of a distinct lineage of teachers connected to Joseph Pilates, and become a 3rd generation teacher.
Graduate Program: Already a certified comprehensive Pilates teacher wanting to dive deeper into the classical work? Bridge with us in our graduate program! Learn the "why" of the system, fill in your blanks, and develop your program design skills from the ground up. You will become a part of a distinct lineage of teachers connected to Joseph Pilates, and become a 3rd generation teacher. The graduate program is a 450-hour comprehensive program.
"The life's work of Joseph Pilates is not something we can fast track, and the responsibility we all share in promoting and preserving the legacy of Pilates is a profound one" - Alycea Ungaro
LINEAGE MATTERS
The lineage system helps to preserve Pilates' original teachings so that they can be passed down as accurately and canonically as possible to future students. It also guarantees that only the highest quality of training is provided to future apprentices.
Mr. Pilates gave his signature body of work to Romana Kryzanowska when he passed, and she gave them to Alycea Ungaro. Alycea now offers them to you through our Real Pilates Teacher Training® program at her Louisville host location, Pilates Fit Studio.
OUR SIGNATURE STYLE FOR TRAINING FORMULAS
TRAIN ON THE ORIGINAL APPARATUS
To teach Classical work you have to train on the original equipment design. For decades Real Pilates® has had a close working relationship with the original manufacturer of Joseph Pilates' designs,  Gratz®.  Pilates Fit Studio is fully equipped with all the original Gratz apparatus made by Joseph Pilates.
START WITH REAL. KEEP IT REAL.
---
Fall 2022 Certification Cycle in Progress
Accepting Applications for Fall 2023
Due to the academic intensity and to ensure we are giving you the proper support, mentorship, and attention, we have limited capacity in each certification cycle for 4 people.
2023 Seminar Weekends
Beginner System: August 4-6, 2023
Intermediate 1 System: September 8-10, 2023
Intermediate 2 System: October 20-22, 2023
Advanced System: December 1-3, 2023
~ After the advanced seminar, each apprentice will have 3-4 months remaining of their internship before their final exams.
---
Program Overview
4 Seminar weekends
Weekly academic assignments, case studies, and quizzes
Program Design
Practice Teaching
Observation
Anatomy and Alignment
Safe spotting & Hands-on
Weekly Private Training Sessions
Weekly Small Group Sessions
Monthly Meetings
Practical Assessments
Assisted Teaching
Paid Teaching Opportunities
The Business of Pilates Workshop
---
Start Your Real Teacher Training Journey
Part I: Informational interview with studio owner, Erica Walters, at Pilates Fit Studio
Part II: Submit your 2022 application to www.realpilates.com
Part III: Interview and Assessment, by invitation with New York.
Part III: Demonstrate completion of the prerequisite coursework or entry-level proficiency prior to the start date.
---
We inspire students to greatness, teachers to excellence, and the industry to evolve and expand with our Louisville Pilates teacher training program.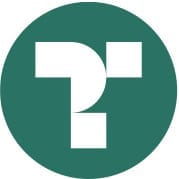 Real Pilates
---
MEET THE WOMAN BEHIND THE METHOD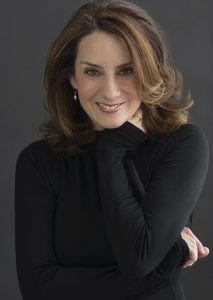 Published authority on fitness and wellness, and a pioneer of the Pilates method, Alycea Ungaro brought some of the very first mat Pilates classes to New York City. Both the method and Alycea built a devoted following as people flocked to her classes.
Alycea has expanded her popular Pilates classes into a fitness media empire. Her first multi-media project was the innovative Portable Pilates™, an easy-to-use at-home mat workout. Best-selling titles followed including; Pilates: Body in Motion, The Pilates Promise, and The Pilates Practice Companion, Alycea's most comprehensive book. Her 15 Minute Everyday Pilates was an international bestseller. A new edition of Pilates: Body in Motion was released in 2019 a reworked version of 15-Minute Everyday Pilates was released in 2020.
Alycea has traveled widely as a guest teacher, hosting retreats at world-famous locations such as Amangani in Jackson Hole, Wyoming. She has trained scores of celebrities including Madonna, Uma Thurman, Kyra Sedgewick, Claire Danes, and Molly Sims. Together with long-time client Christy Turlington, Alycea collaborated on a "Pilates Booty" for Puma. The booty was aptly named "The Alycea."
In addition to her Pilates expertise, Ungaro is a licensed Physical Therapist having graduated from New York University's prestigious program. She holds a Master's Degree in Applied Clinical Nutrition as well as a certification in Peri-natal exercise and is a Nationally Certified Pilates Teacher.
Her commitment to the industry led her to create her comprehensive Pilates Teacher Training program where she shares the method as she learned it directly from her teacher, Joseph Pilates' protege', Romana Kryzanowska. The Real Pilates Teacher Training program is now conducted internationally and has graduated hundreds of professional Pilates instructors around the globe.
Contact us to schedule a 1:1 admissions interview for The Real Pilates Certification Program in Louisville or Apply Now!