Upcoming Continuing Education Courses and Workshops
MeJo Wiggin Tower & Chair Sequencing Workshop
Pilates Fit Studio. East Louisville in Pewee Valley
Second Round Registration
March 16th – May 15th: $750
May 16th – June 23rd: $795
Teaching a Tower Class
10 am – 1 pm (3 hrs)
Group classes in Pilates studios are becoming increasingly popular. Since we have no record of Joe teaching Tower class, how do we teach a fun, challenging class and still keep it classical? How do we incorporate new exercises and variations into the class to keep it exciting and new, yet classical? This 3-hour workshop will teach you how to structure a successful Tower Class and give you new ideas to incorporate into your class. Get ready to work out as MeJo takes you through 2 completely different Intermediate/Open Level Tower Classes, and an Advanced Tower Class to challenge your students in new ways.

Ancillary Apparatus
1:30 pm – 4:30 pm (3 hours)
As teachers, we often forget about the Foot Corrector, Toe Corrector, Tensometer for the Neck, Sandbag, Airplane Board, Foot Board, and Jump Board. This workshop will be a review of these apparatuses. In addition, MeJo will also show you some of the rare exercises Romana Kryzanowska taught with the Magic Circle. You will try them yourself and learn who would most benefit from them as they target very specific areas of the body.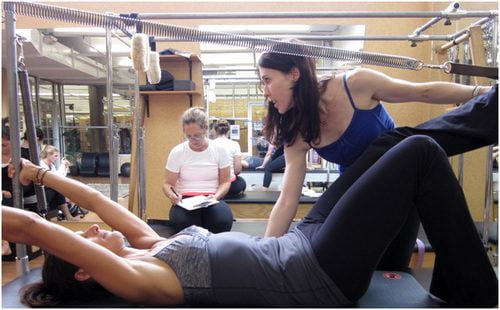 Teaching a Wunda Chair Class
10 am – 1 pm (3 hrs)
The Wunda Chair has always been used to help strengthen specific areas of the body and to challenge balance. Romana rarely taught a full session on the chair unless a teacher asked for a review. During the pandemic, MeJo started teaching online classes on the Wunda Chair to teachers. It has become one of the classes she most looks forward to teaching. This workshop will teach you how to structure a class on the Wunda Chair while keeping the integrity of the exercises. You will learn how to break down exercises so one teacher does not have to spot each student in class, and several variations to challenge your advanced students. This 3-hour workshop will take you through a Beginner, an Intermediate, and an Advanced Wunda Chair class. See how the exercises progress, and how you can still challenge your students safely.

Questions in the Studio
1:30 pm – 3:30 pm (1.5 hours)
As teachers, we often forget about the Foot Corrector, Toe Corrector, Tensometer for the Neck, Sandbag, Airplane Board, Foot Board, and Jump Board. This workshop will be a review of these apparatuses. In addition, MeJo will also show you some of the rare exercises Romana Kryzanowska taught with the Magic Circle. You will try them yourself and learn who would most benefit from them as they target very specific areas of the body.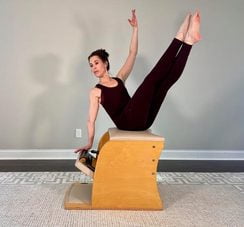 Come ready to learn and ready to strengthen, stabilize, and stretch your entire body in this dynamic and fun workshop!
About MeJo Wiggin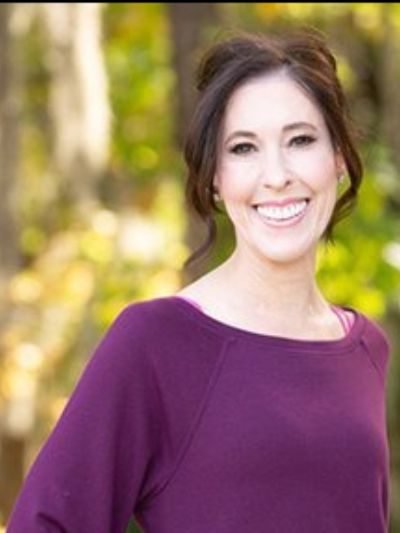 With over 25 years of experience in the Pilates Industry, MeJo Wiggin is a full-fledged Pilates Guru with an international reputation. She is recognized as one of the leading Pilates Teacher Trainers and practitioners in the world and has been sought after by Pilates professionals and fitness studios around the globe to train the next generation of teachers.
MeJo began teaching next to legendary Romana Kryzanowska in 1995 at Drago's Gym in New York. She opened her first studio in Greenwich, CT in 1996 and by 2003, was hand picked and Certified as a Level III Teacher Trainer for Romana's Pilates Teacher Training Program. As devout student of Romana for over 14 years, Romana would often refer to her work as "poetry in motion" and gave MeJo a Gold Card in recognition of her advanced abilities. She was one of three female artists Romana selected to film Romana's Pilates Mat DVD series and Romana on Pilates: The Legacy Edition. She is featured in Pilates Revealed with Jay Grimes and she hosted/produced her own videos 20 Minutes, Twice a Week and The Gratz™ Arm Chair.
Her mission is to continue teaching seminars and educating Pilates instructors worldwide in the many benefits of the Classical Pilates Method.
Pilates & Scoliosis
September 30th – October 1st, 2023
Pilates Fit Studio. East Louisville in Pewee Valley
Second Round Registration
Joseph Pilates' very own trainee, professional dancer, and physical therapist, Sonje Mayo, is presenting a workshop on Scoliosis, a three-dimensional deformity that occurs when the spine becomes curved laterally with rotation. Sonje will provide an in-depth perspective and comprehension of the spine and the condition of adult scoliosis.
This course will give teachers the knowledge and insight to make informed decisions about clients with scoliosis.
Course Objectives:
Review the anatomy of the spine and the condition of scoliosis
Examine the scoliotic spine in three dimensions
Experience a practical evaluation of clients with scoliosis
Pilates for scoliosis: contra-indications and modifications
Understand the value and necessity of the Schroth method. When and why to refer the adult client to a Schroth Certified PT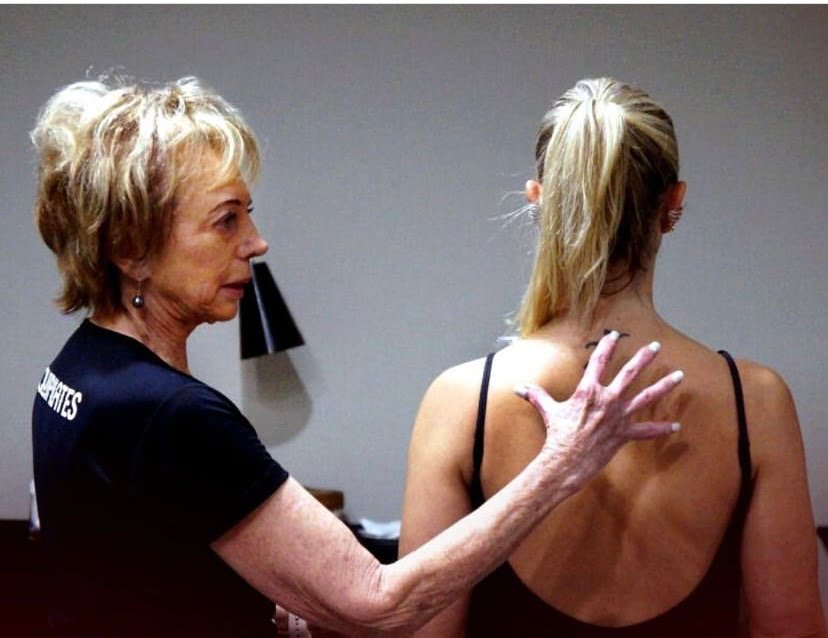 About Sonje Mayo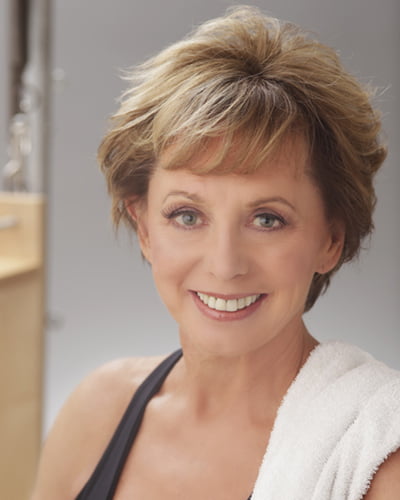 Sonjé Mayo was born in South Africa in 1945. At barely four years old, she went to her first classical ballet class and never looked back!
After certifying as a physical therapist at the University of Cape Town, her career as a professional dancer took her to London, England, and then to the USA where she studied jazz dance initially with Luigi and then contemporary dance at the Martha Graham School in NYC. It was here at the Graham School where Sonjé had the privilege of meeting Joseph Pilates. The few Pilates sessions she had with Joseph Pilates, and later with Romana Kryzanowska proved to have a profound influence on Sonje's future.
During the four years in NYC, Sonjé gained experience in a variety of dance styles on many TV shows, in commercials, and in theatre productions. Although ballet was always her first love, Sonjé set her sights on becoming a contemporary dancer mainly because of the interesting and challenging choreography that was emerging in the 60s and 70s. She danced with the Alvin Ailey Dance Company and this experience in particular inspired her to return to South Africa and impart her knowledge.
On her return to South Africa in 1972, Sonjé started her quest to pioneer modern dance in her country. She formed the first multi-racial modern dance company in the history of South Africa, JAZZART, which is still in existence in Cape Town.
She has won many choreographic awards in South Africa, including the coveted Vita Award twice. Her international awards include the Prix de Lausanne in Switzerland, the Isola de Capri in Italy, and the Concours de Dance in Paris, France.
Sonjé represented South Africa at many international dance festivals worldwide, including the International Dance Festival in Stuttgart, Germany, and the Commonwealth Arts Festival in Victoria Island, Canada. Her unique style of blending contemporary dance with African dynamics became her trademark. During the 70s and 80s, Sonjé's protest choreography brought the plight of Apartheid to audiences in and out of South Africa.
Amongst her many achievements in SA, she introduced contemporary dance at the Johannesburg Art School, the most prominent school for the performing arts. She also pioneered the first-ever Diploma Course in Dance at the Pretoria Technikon.
Sonjé returned to the USA in 1995 and settled in Nashville where her husband, a radiologist, was offered a post at the Vanderbilt University Medical Center. She taught and choreographed for the Tennessee Dance Theatre and the Nashville Ballet company and started her own dance company, Évolution Dance. Her collaboration with top musicians in 'Music City' was met with great acclaim.
In 2003 Sonjé retired from the dance world and inevitably returned to Pilates on a full-time basis. She obtained the Mat certification with Power Pilates in NYC in 2004. In 2006 she commenced her equipment certification with Peak Pilates. In October 2007 she obtained the Peak Pilates Professional Certification and then the Peak Comprehensive Certification in June 2008. Sonje is grateful for Alicia Gottlieb's wonderful teaching which rekindled her passion for Pilates.
Sonjé runs her own studio, The Pilates Atelier, in Nashville, where she has been teaching for 16 years.
As a physical therapist and an experienced teacher and dancer of 45 years, Sonjé has become known for her rehabilitative expertise as a Pilates instructor. Dancers and athletes with injuries are recommended to her by the medical fraternity and other Pilates teachers in Nashville.
Sonjé's new interest is the Schroth method for treating Scoliosis. As a PT she has been certified in the Schroth Best Practice Method by Dr. Weiss from Gensingen, Germany, who is the grandson of Katharina Schroth, the pioneer of the famous Schroth method.
In April 2016, Sonje completed the Advanced Schroth Best Practice course with Dr. Moramarco in Woburn, MA.
Sonje features extensively on Pilatesology.com which has put her skills on the Pilates world stage. She teaches many workshops internationally and in the USA.