Pilates Fit Studio is Louisville's best-kept secret for Classical Pilates instruction and teacher certification. The studio is conveniently located in the east Louisville suburb of Pewee Valley, next door to St. Aloysius School and The Little Colonel Playhouse. Pilates Fit Studio offers classical Pilates instruction with personal training sessions, duet personal training sessions, a variety of semi-private small group classes, and a full on-demand platform. Serving the communities of East Louisville, Peewee Valley, Norton Commons, Springhurst, Worthington Hills, Anchorage, Lake Forrest, Simpsonville, Fisherville, Middletown, Crestwood, Goshen, and LaGrange.
Our 1,600 square foot Classical Pilates studio is equipped with GRATZ equipment, including multiple reformers, towers, chairs, cadillac, and more. We offer private and duet Pilates sessions, semi-private group classes, and a full on-demand platform where you can stream pre-recorded videos.
The studio is a trusted partner and branch of New York's renowned, Real Pilates, to provide Pilates teacher training certification and continuing education workshops for certified teachers.
The Authentic Classical Pilates Experience:
We teach Pilates the way it was intended. Pilates is resistance training and we use springs and bodyweight exercises to develop a strong core and condition the whole body to give you the results. Pilates Fit Studio is fully outfitted with the Classical apparatus made by GRATZ Industries. GRATZ is the original engineering, and the same company Joseph Pilates used.
---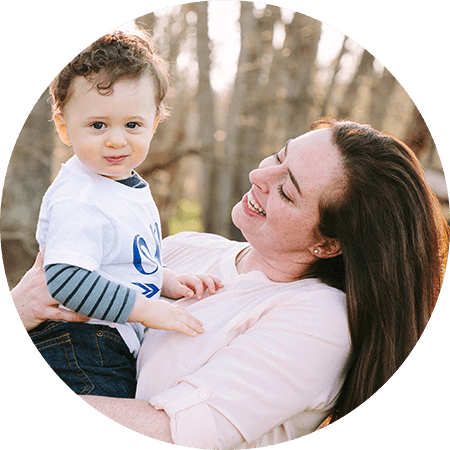 Pilates has truly changed my daily life. I have had lower back problems for the last 15 years and was able to keep active. But after my pregnancy, everything changed. I had a bulging disk that sidelined me for a week with a newborn, and I knew I had to do something. As a Physical Therapist Assistant, I had heard about Pilates and its focus on core strength. I was nervous to exercise, but Erica worked with me slowly at first and progressed to a full session as my strength increased. Before I was unable to carry my son, and by 5 pm I was in enough pain that I had to lay on the floor for an hour. Now I am able to hold and carry my son (40 lbs!) and get thru the entire day that includes a workout and more. I am so grateful that I started Pilates. It has changed my body and life!

Kate L. from Louisville, KY
---
Semi-Private Groups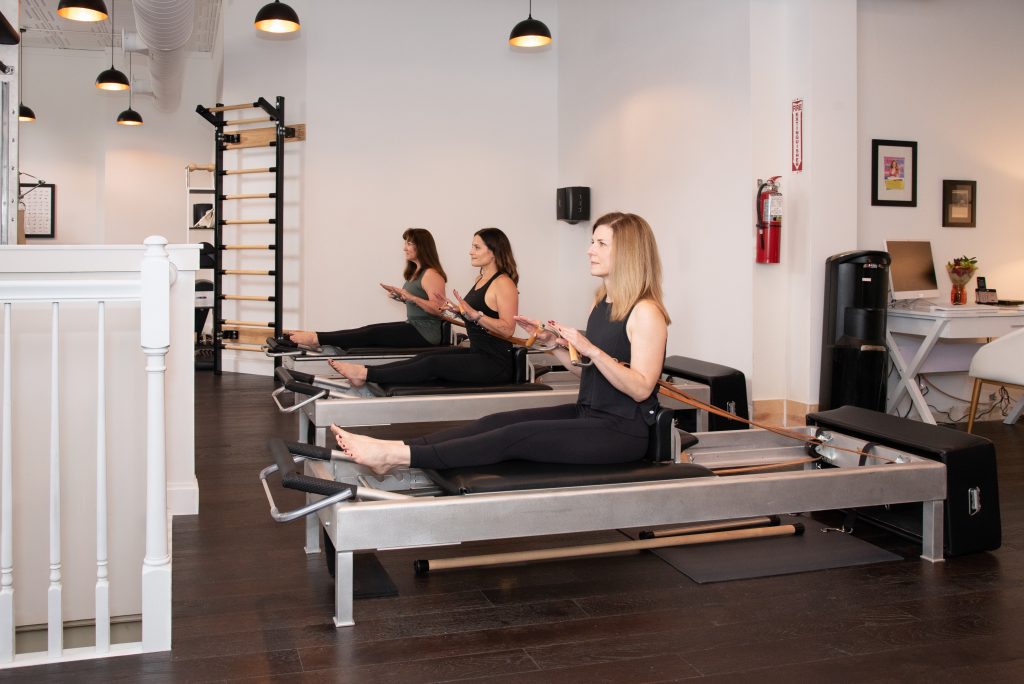 Ditch the crowds. Individual attention makes all the difference.
Each semi-private small group is 3-4 participants where you will always use the spring-driven equipment. Expect detailed instructions, hands-on cues for proper alignment, and individual attention to address your unique challenges.
We have semi-private groups to fit almost every schedule, fitness level, and the Better Back® class for those with osteoporosis and back pain.
Semi-Private Group Lesson Descriptions
Beginner: New to Classical Pilates? Start with our Beginner groups. Learn and strengthen your Pilates practice from the ground up. In this group, you will learn the choreography, spring changes, equipment set up, foundations, and principles. You will use the Reformer, Tower, Chair, and Mat. Once you've mastered the basic moves and equipment, you'll be equipped to graduate to the next level. Appropriate for first-time students.
Reformer Class: Meet the Real Reformer workout. Our Reformers are fashioned after the original blueprint designs. Pilates Fit Studio trains you in the original system, the same way Joe Pilates did. With 4 weighted springs and a specific repertoire, you'll learn to use the springs and your body for strength and tone. Beginner, Intermediate, and Advanced classes are available.
Spring-Fit: For the love of Springs! Using resistance from the arm springs, leg springs, roll down bar and push through bar, you'll tone and strengthen in places you didn't even know you had. Open Level
Reformer/Tower Class: In the first half of class we work the entire system with flow, strength, precision, and control on the Reformer. The second half will be on the Tower units toning up the body with the arm springs, leg springs, roll down bar, and push through bar. BEG/INTMD levels
The Better Back®: This class supports those who have osteoporosis, sciatica, or any disc issue that are not in acute pain. You will get a balanced workout with the focus on strengthening the core abdominals that do so much to support your back, improve the quality of your movements, and keep your spine flexible and strong. You will work on the Reformer, Tower, chairs, barrels, mat, and auxiliary pieces.
Mat Class: It's you, the mat, and added resistance. In this class, we use weighted bars, hand weights, small balls, and resistance bands to enhance the Classical Mat repertoire and leave your muscles aching for more. You can expect a fantastic workout in 40 min. Open Level Mat
If you're new to Pilates Fit Studio, but not new to Classical Pilates, contact us so we can put you in the appropriate class.
Personal Training Sessions
Personal Training Sessions are the Signature Service at Pilates Fit Studio. The lessons are taught under the watchful eye of one of our skilled instructors. Personalized instruction allows students to learn the exact way to do each exercise for maximum benefit. Students often choose one-on-one sessions because they are new to pilates, recovering from an injury, want to deepen their practice, or prefer to take a class individually.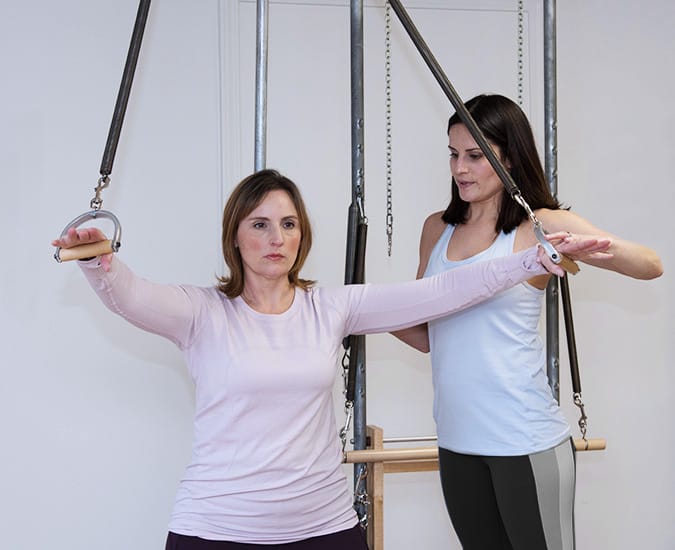 Classical Pilates Teacher Training Certification & Continued Education Courses
In our commitment to teaching and preserving the Classical, historical Pilates Method of Body Conditioning, we are partnered with New York's renowned, Real Pilates Teacher Training Certification program, as a Host Studio.
WHY REAL PILATES? Real Pilates trains you from the source, the primary technique, and methods created by Joseph Pilates himself. Real Pilates is the ultimate delivery system for the hundreds of exercises and unique apparatus developed by Joseph Pilates. Our specialists are trained in the next level of Pilates with targeted goal setting, strategic sequencing, and program design. The Real Pilates system addresses every aspect of your fitness and wellness through proper anatomical alignment, hands-on work, and advanced cueing, all performed on the entire range of spring-driven equipment. We believe in the power of the student-teacher relationship and have developed our signature style and training formulas specifically for you, whatever your needs may be.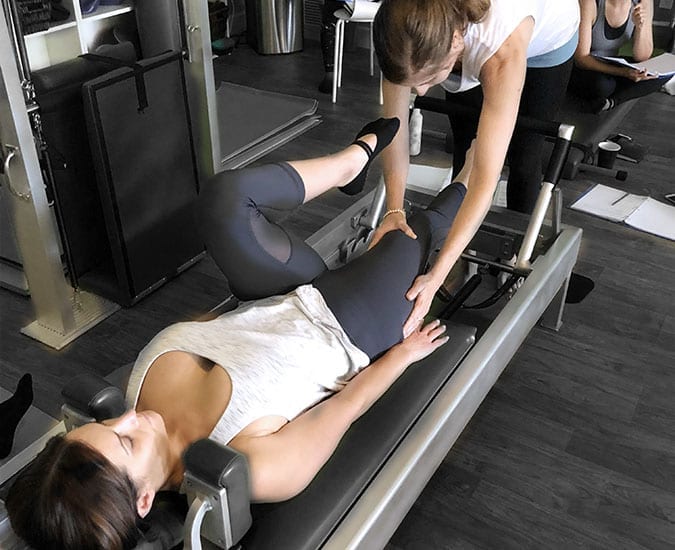 WHY BECOME A REAL PILATES TEACHER- This is the source of all Pilates. It all starts here. We believe you should never have to re-train as a Pilates trainer. Training comprehensively, according to the original system, means you'll have the purest foundation for your practice and your career.
Over four seminar weekends, and 600 hours of practical and academic study, you'll become a bona fide expert in the classical system that was Joseph Pilates' life's work. As a 3rd generation instructor, you'll get to carry on his legacy.
Start with Real. Keep it Real.
Our goal is to help create well-rounded Pilates teachers who are competent, educated, and able to work with clients of all ages, genders, and fitness levels.