Do you love Pilates and want to share that love with others? Consider becoming a Pilates instructor. Pilates Fit Studio can help you learn how to teach others the many benefits of Pilates.
Apply to join our Pilates Teacher Training in Jeffersontown, KY, so you can help others transform their lives through Pilates. We'll guide you throughout the process of becoming a professional Pilates instructor.
As a trusted partner and branch of New York's renowned Real Pilates, Pilates Fit Studio stands out for offering one of the best Pilates training certifications worldwide. The Real Pilates Training Program continues the legacy of John Pilates.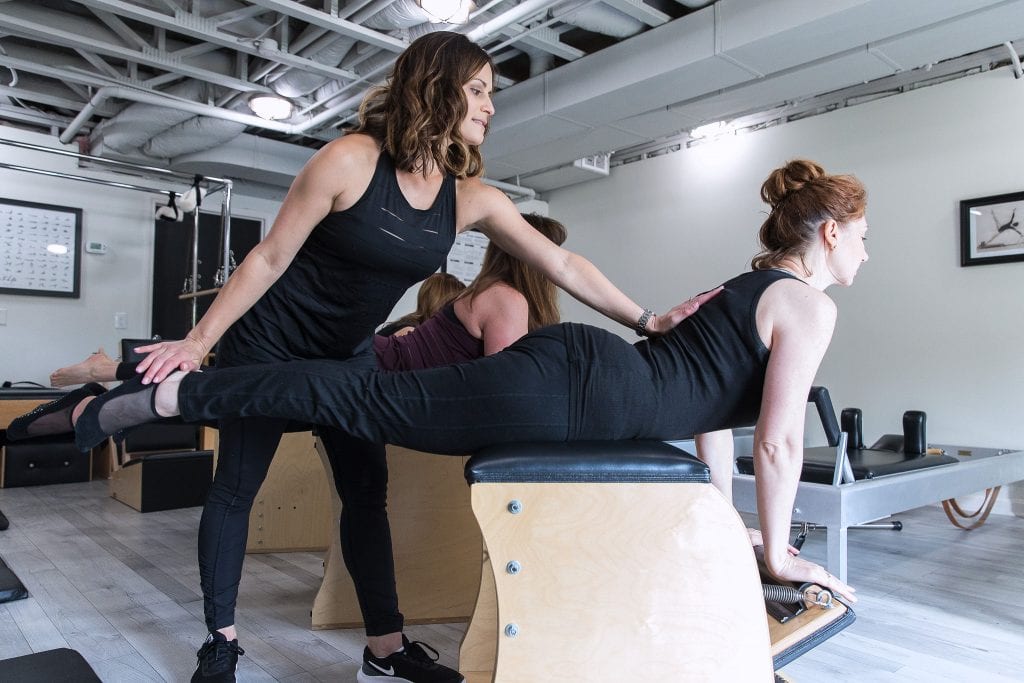 Our Comprehensive Program
With so many Pilates techniques and methods out there today, our comprehensive training program sets itself apart by sticking to the basics. We utilize every exercise, every piece of equipment, and every variation created by Joseph Pilates. Our classical Pilates approach equips you with the knowledge and experience to work with students of all levels and abilities.
You'll also have the professional expertise to handle clients with specific health concerns.
Our Pilates Teacher Training in Jeffersontown, KY includes such programs as:
Primary Training Certification
We present this 30-week program over four seminar weekends and 600+ hours of study (practical and academic.) This certification includes everything, from anatomy and common injuries to special populations and anatomical alignment. Completing this training certifies you as a 3rd generation teacher.
Graduate Program
This program is for a certified Pilates teacher looking to gain more knowledge and insight into John Pilate's classical work. The graduate program helps you understand the system inside and out.
Why Choose Our Pilates Teaching Certification?


Our Pilates certification program includes training under an instructor whose lineage can be traced back to Joseph Pilates. The lineage system helps to preserve Joseph Pilates' original teachings.
At Pilates Fit Studio, you will learn the Classical Pilates System that traces back to First Generation Pilates instructor Romana Kryzanowska. Mr. Joseph Pilates trained Romana Kryzanowska on his methods and signature body of work.
Romana then imparted her knowledge of Mr. Pilates' system to Alycea Ungaro, who now offers them through our Real Pilates Teacher Training program.
Besides her Pilates expertise, Ungaro is a licensed Physical Therapist. She holds a Master's Degree in Applied Clinical Nutrition and certification in Peri-natal exercise.
Our classical Pilates education training emphasizes everything that made original Pilates such a sensation. This classical approach aims for complete coordination of body, mind, and spirit.
Real Pilates has maintained a solid working relationship with Gratz, the original manufacturer of Joseph Pilates' designs and equipment, for decades. We have fully equipped our Pilates Fit Studio with all of Mr. Pilates' Gratz apparatus.
Start Your Pilates Teacher Training in Jeffersontown, KY
Are you interested in teaching Pilates, or would you like to learn more about this form of exercise? Our Pilates Teacher Training in Jeffersontown, KY, offers the skills and training you need for a promising career in the Pilates industry. Contact us today at 502-797-5068 to book an admissions interview and apply to join our program.
Get In Touch Today!
Pilates Fit Studio offers Pilates Teacher Certification and Classic Pilates Instruction in Jeffersontown, KY. Our Pilates Teacher Training Near Me is designed to give you the skills and knowledge you need to be a successful Pilates teacher. We offer a variety of courses that will allow you to learn the Pilates method and how to apply it to your own teaching style. Pilates Fit Studio is the perfect place to get started on your Pilates teaching journey! Call us today to learn more about our Pilates Teacher Training program or to schedule a free consultation. We look forward to helping you achieve your Pilates goals!
GET CERTIFIED WITH PILATES TEACHER TRAINING IN JEFFERSONTOWN, KY.
If you're interested in becoming a Pilates instructor, the best way to get started is with Pilates teacher training in Jeffersontown, KY. Our teacher training program provides intensive instruction from experienced instructors and gives you all the tools you need to start working as a professional instructor.