Teaching pilates enables you to be a positive influence on others. You can help others improve their stability, strength, tone, and flexibility. If you're looking for the path toward becoming a pilates teacher, look no further.
Inspire others with our Pilates Fit Studio Pilates Teacher Training in St. Matthews, KY. Pilates Fit Studio is a branch partner of one of the world's most prestigious and comprehensive certifications — Real Pilates Teacher Training Program (RPTT).
The RPTT comprehensive teacher training program will give you the skills and knowledge you need for a successful career as a professional Pilates instructor.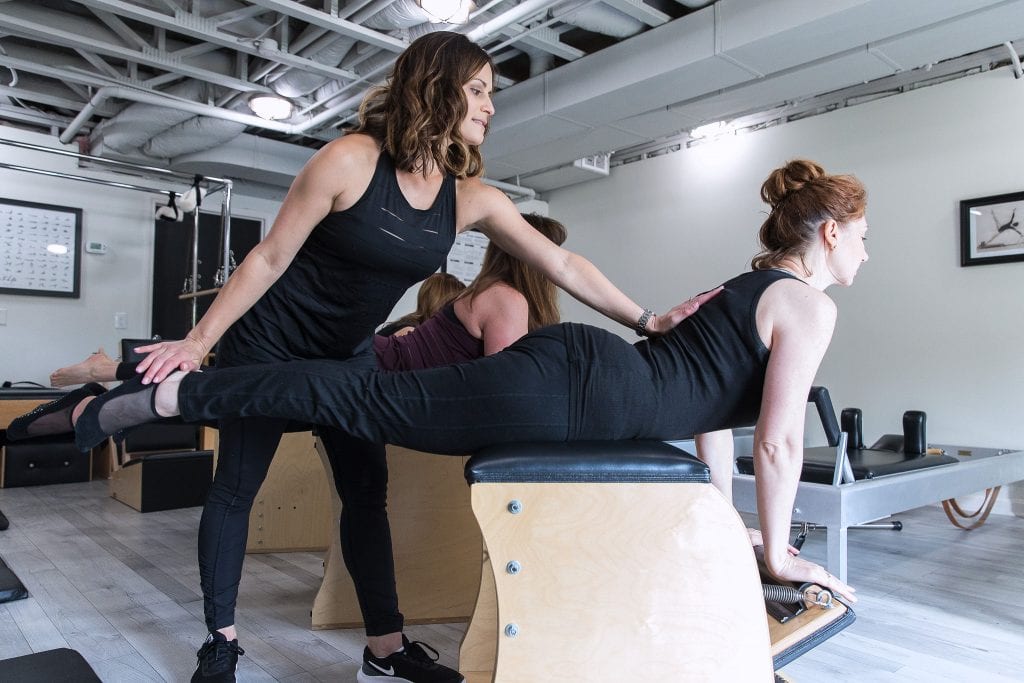 Our Comprehensive Program
These days, Pilates has many styles and versions. Unfortunately, many Pilates styles on the market today bear little to no resemblance to the classical Pilates Joseph Pilates created.
Classical Pilates includes a wide range of pilates exercises, specific equipment, and a particular teaching style that work together to create a Pilates experience that is most beneficial to the mind, body, and spirit. Pilates Fit Studio trains instructors using classical techniques that have stood the test of time.
Our comprehensive program includes every piece of equipment, every exercise, and every variation created by Joseph Pilates. Mr. Pilates gave his signature body of work to Romana Kryzanowska, who then gave them to Alycea Ungaro, the woman behind our Pilates Teacher Training in St. Matthews, KY.
We have two programs:
Primary Training Certification
This 30-week Pilates education program comprises over 600+ hours of academic and practical study and four seminar weekends. At the end of the program, you'll become a 3rd generation Pilates instructor.
Graduate Program
This 450-hour comprehensive program is for certified Pilates instructors who want to enhance their knowledge and hone their skills in classical Pilates.


Lineage Matters
With Pilates, authenticity means everything. Classical, original, and authentic exercises are in high demand because they offer the best results. Alycea Ungaro takes a personal role in each trainee's program to pass on the highest quality and level of knowledge.
Our syllabus is based on Romana's syllabus when she was at the peak of her teaching in the 1990s. The depth of knowledge and understanding of Pilates achieved sets graduates of Pilates Fit Studio apart from all others.
Our training formula includes:
Targeted goal setting
Strategic Sequencing
Anatomy
Hands-on-work
Anatomical Alignment
Program Design
Advanced Cueing
To teach the classical work of Joseph Pilates, Pilates Fit Studio stays equipped with original Gratz apparatus.
Why Choose Our Pilates Teaching Certification?
Our Pilates certification covers the entire method of Joseph Pilates. With a thorough understanding of classical pilates, you'll have the technical knowledge and experience to train students of all levels and abilities. You'll also know how to modify exercises to achieve the best results for different types of clients. For example, your knowledge of anatomy will be helpful for clients with specific health concerns.
Are you interested in becoming a Pilates instructor? Get started today with our Pilates Teacher Training in St. Matthews, KY. Contact us at 502-797-5068 to schedule an admissions interview or apply now.