Are you thinking about becoming a Pilates teacher? If so, you'll need to undergo teacher training. There are many excellent Pilates teacher training programs available, and one of the best teacher training programs is offered by Pilates Fit Studio in Louisville, KY.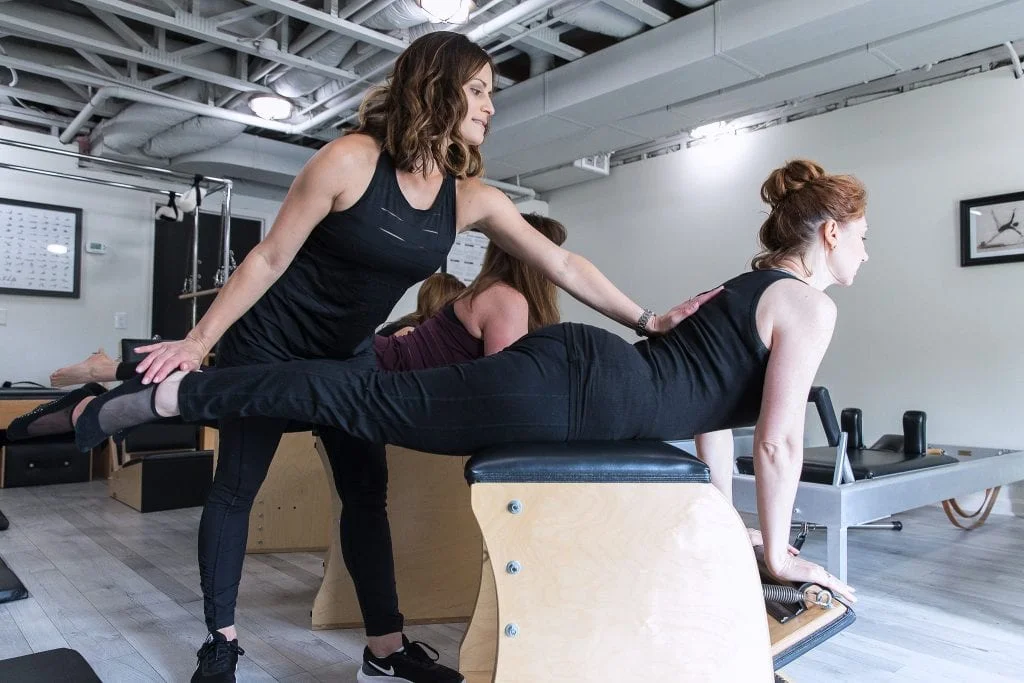 Pilates Fit Studio is a branch partner of New York's renowned, Real Pilates Teacher Training program, which is recognized as one of the most prestigious and comprehensive certifications in the world.
The RPTT comprehensive Classical Pilates teacher training program will give you the skills and knowledge to set you up for success with a career as a professional instructor where you will be hireable anywhere in the world.
Certified in Pilates Teacher Training Louisville KY

The Pilates Fit Studio teacher training program is a comprehensive classical pilates course that covers the entire method of system, soup to nuts. You will learn the system of the method, anatomy, anatomical alignment, special populations, injuries, and the business of Pilates. You'll learn every exercise, variation, and every piece of apparatus ever created by Joseph Pilates.
With a thorough understanding of Classical Pilates, you'll be able to work with students of all levels and abilities. You'll know what types of modifications are needed for each exercise, and you'll be able to modify them for injured or pregnant clients as well. Additionally, your knowledge of anatomy and physiology will allow you to work with clients who have specific health concerns.
Our comprehensive training program.
All Pilates starts here.
If you want to be a Pilates teacher there are dozens of ways to become one. All kinds of hybrid and fusion inspired Pilates techniques can take you into the fitness field. But there's only one path back in time to the original work. Real Pilates trains you from the source, the primary technique and methods created by Joseph Pilates himself.
Mr. Pilates gave his signature body of work to my teacher Romana Kryzanowska and she gave it to me. Now I offer them to you through our Real Pilates Teacher Training program.
You'll learn every exercise, every variation and every piece of equipment ever created by Joseph Pilates. You'll learn how to train, how to challenge and how to truly inspire your clients.
Over four seminar weekends, and 600 hours of practical and academic study you'll become a bona fide expert in the classical system that was Joseph Pilates' life's work. As a 3rd generation instructor, you'll get to carry on his legacy.
Pilates starts here. Learn the practice the way "Uncle Joe" invented it.
DIFFERENT PILATES TEACHER TRAINING PROGRAMS
We hear the word "classical" get thrown around a lot when talking about Pilates, but what exactly does it mean? How does Classical Pilates differ from contemporary renditions of the method? Let's break it down.
Classical vs. Contemporary Pilates
So, what is Classical Pilates? Quite simply, Classical Pilates refers to the traditional series of exercises designed by Joseph Pilates, performed in the precise sequence he had intended, on the apparatus he designed, with the purpose of achieving complete coordination of body, mind, and spirit.
Teacher Certification.
Aspiring instructors must undergo rigorous and comprehensive training and are required to complete a minimum of 600 hours to become certified. What's more, they must train under a teacher whose lineage can be traced back to Joseph Pilates himself. At Pilates Fit Studio in Louisville, KY, you will learn the Classical Pilates System, which traces back to the Romana Kryzanowska lineage.
What does this mean? Back when Joseph Pilates was running his studio in the US, a group of individuals—Romana Kryzanowska, Kathy Grant, Lolita San Miguel, and Eve Gentry, to name just a few—worked and trained directly under him. These individuals later became known as First Generation Pilates instructors. After Joseph Pilates died, they went on to teach his method to Second Generation Pilates instructors and so on.
The lineage system helps to preserve Pilates' original teachings so that they can be passed down as accurately and canonically as possible to future students. It also guarantees that only the highest quality of training is provided to future apprentices.
FAQS
Here is a brief list of frequently asked questions about our teacher training program. If you have a question that is not listed here, please contact us: [email protected]
I'M READY TO START RIGHT NOW. DO I HAVE TO WAIT FOR A SEMINAR?
Absolutely not. Our program starts the day you are ready. From the moment you choose to enroll we start you on a weekly program of workouts, homework, and required assignments. You'll be entered into our e-learning platform where your formal Pilates education will begin. If you're ready, we can get you started.
HOW MUCH TIME IS REQUIRED EACH WEEK?
The RPTT program is a rigorous program and there are no shortcuts. The weekly commitment is 18 – 22 hours per week to be accomplished according to your schedule and the schedule of your Host studio. But… we have multiple protocols for extensions should one be necessary.
WHY DOES YOUR PROGRAM HAVE TO BE COMPLETED IN 30 WEEKS? WHAT IF I NEED LONGER?
Immersion education is shown to have the best results over the long term. Our program allows you to keep pace with a group of your peers so that you always have support from students in the exact same place you are. This allows for camaraderie, team building, and a level of education that is uncommon in programs that allow you to go at your own pace. All graduates have 30 days beyond the program to complete their final exams. Should an extension be necessary our team will work with you to make sure you can proceed to the finish line.

ON THE FLIP SIDE, IS IT POSSIBLE TO FINISH SOONER THAN 30 WEEKS? 
Short answer: No. Longer answer: The Real Pilates program is laid out with specific goals, targets, and assignments for each of the 30 weeks. We require all participants to stick to the outline of 18 – 22 hours per week to avoid education overload or worse, plateaus. Performing at a steady pace, we are confident that 30 weeks is the minimum time you should invest to process this enormous body of work. When you leave this program, you will be responsible for the health and well-being of others. Such a responsibility should not be rushed. Take your time, respect the process, and soak up every single second.

I AM INTERESTED IN THE GRADUATE PROGRAM BUT ONLY WANT TO COMPLETE THE SEMINARS. IS THAT POSSIBLE?
No. There is no path to becoming a Real Pilates Teacher that allows for trainees to complete seminars alone. In fact, our seminars account for just 72 hours of the 600 total required to graduate. The bulk of our training program is completed on the teaching floor, with supervision and support.
WHAT IF I HAVE TO MISS A WEEKEND?
All trainees are required to complete the weekend seminars in order from first to last. If your schedule restricts you from attending a seminar, we suggest you look to the next upcoming program dates.
AREN'T ALL CLASSICAL PROGRAMS THE SAME?
Not really. Depending upon when a program creator studied with an original source of Pilates and which source that was will determine what type of classical training is offered. Our program is based on Romana's syllabus from the early 1990s when she was at the peak of her teaching.  This foundational training coupled with modern technology and founder Alycea Ungaro's background as a physical therapist makes our program unique. Trainees often describe the training as two programs in one. The live program and the online program combine for the best of both experiential and academic education.  We insist that every single hour of your program is truly valuable.
IT LOOKS LIKE THE REAL PILATES TEACHER TRAINING PROGRAM IS MORE EXPENSIVE / LESS EXPENSIVE THAN OTHER PROGRAMS I HAVE SEEN…IS THAT SO?
There are many ways forward to becoming a Pilates instructor. But there are very few ways back to the real work of Joseph Pilates. The real value of your training is the expertise you glean and your ability to work with any type of human. The RPTT confers another distinct benefit: lineage. This is what you earn by training in the original method. Joe taught Romana. Romana taught Alycea. Now Alycea will teach you. You will then take your place as an ambassador for the work of Joseph Pilates.

If the cost seems higher than others programs, it's because we show you the total costs up front whereas many programs only reveal the tuition and mask the many other required costs. We believe there shouldn't be any surprises. If the cost seems lower it's likely because we have enough Host studios and enough volume to scale our expenses and pass the savings on to you. Remember that are really two programs in one. We believe that you should only have to go through your primary Pilates education once. Too often, instructors graduate from their programs and immediately begin again somewhere new spending enormous time and money re-educating themselves. Our motto is "do it once and do it right". It is far less expensive to enroll in a complete comprehensive education than to begin all over again in new training programs.

DOES ALYCEA UNGARO TEACH ALL THE WEEKEND SEMINARS?
No. Alycea occasionally teaches a weekend seminar but focuses on building the program content and training the RPTT team as well as teaching sessions and classes for trainees and clients alike. Regardless of seminars, Alycea will be a part of your training, either in weekend seminars, sessions, or testing. Alycea takes a personal role in each trainee's program.
ONCE I HAVE GRADUATED WHAT ARE THE REQUIREMENTS?
All professional Pilates instructors are invited to keep up their training with RP through our membership program, our annual educational event, and regular training.
How it works
Classical Pilates teacher training in Louisville KY is an intensive program that will provide you with the knowledge and skills necessary to become a certified Pilates instructor.
Choose your path:
Primary Training Certification: This is a 30-week program presented over four seminar weekends, and 600+ hours of practical and academic study.
Graduate Program: Already a certified comprehensive Pilates teacher wanting to dive deeper into the classical work? Bridge with us in our graduate program! Learn the "why" of the system, fill in your blanks, and develop your program design skills from the ground up. The graduate program is a 450-hour comprehensive program.
GET CERTIFIED WITH PILATES TEACHER TRAINING IN LOUISVILLE KY
If you're interested in becoming a Pilates instructor, the best way to get started is with Pilates teacher training in Louisville KY. Our teacher training program provides intensive instruction from experienced instructors and gives you all the tools you need to start working as a professional instructor.